Deco Crete leads the Concrete Flooring Industry with 14 INDOOR ADVANTAGE GOLD certifications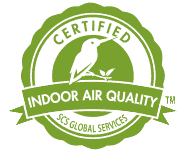 At Deco Crete, we put the health of the planet and the people at the core of our business. All of our liquid products are water-based and have low VOC emissions for environmental-friendly and durable flooring solutions.
Deco Crete products have passed the Californian CDPH v1.2 test, executed by an industry-independent laboratory in Europe. Deco Crete has received certifications for all its liquid products from an ISO accredited, third-party certification body from the US:
decoSIL
decoLIT
decoSODHS1
decoSLABSAVER
decoPINFIX
decoBOND
decoQUICKCUT
decoFINISH
decoFINISH-LP
decoGREENSEAL
decoCOLOR
decoSLABSAVERplus
decoSTAINSTOP
decoLATEX
These certified products meet the LEED performance criteria and can contribute toward earning points needed for LEED certification. Similarly, these products are also eligible for credits under BREEAM's indoor air quality requirements.
Several investors, who are seeking LEED certification for their projects have chosen Deco Crete products for their polished concrete floors, namely FM Logistics and the Vietnamese-German University.