CURING AGENTS ………or not?
There is a big misunderstanding in the polishing world caused by over-promising by manufacturers and applicators. Liquid hardeners like sodium silicates do not work as a curing agent.
Some manufacturers of sodium silicates make applicators and investors believe that their products prevent moisture loss if applied shortly after the casting of the concrete.  These products, however, are not effective as curing agents.

The American Concrete Institute (ACI) in its Guide for Concrete Floor and Slab Construction (ACI 302.1R), as well as the American Society for Testing and Materials (ASTM) ,in specification C 309,  clearly define concrete curing compounds as "membrane-forming". Solutions of sodium, potassium, or lithium silicate are not membrane forming, and therefore do not comply with the above industry standards for concrete curing compounds.
When discussing the use of sodium silicate on concrete, ACI 302.1R states:'Products in this group are not specifically formulated for curing applications and do not meet the requirements of either ASTM C 309 or STM C 1315 for liquid membrane-forming compounds. While their use may offer some desirable benefits when applied after curing, they should not be applied on fresh concrete'
How to cure concrete prior to polishing?
Polished concrete should be watercured for a period of 7 days according to ACI 302. 1R.
Water should be continuously added to the surface or drying out of the surface should be prevented by covering it with plastic sheets.
Alternative curing by real film forming curing agents are not suitable for polished concrete.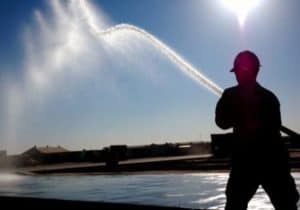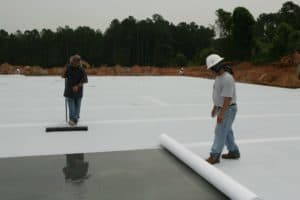 Polished Concrete Solutions
If your a contractor, investor or other professional please contact us for more information on our products.